SIOP 2014 Coverage: Schedule Planning | Live-Blog | Reflections
One of the side effects of a Hawaii conference is a week of relaxation after the conference ends.  Ahhh.  Reflections on the conference will be forthcoming, but for now, I'm archiving my live coverage of the conference from Twitter here.
May 11 – Final presentations and posters for #SIOP14 Hawaii all complete… 9 presentations! Not much time to listen to others! #academicproblems
May 15 – 21 hours of traveling, 3 planes, and STILL not at #siop14 … Next year, how about we have it where I live?
May 15 – 28h of travel from Virginia, incl one extra plane reroute, all bags lost, hotel room wasn't ready at 11PM… #siop14 not a stellar start!
May 15 – @josuepht Thanks! I think I'm skipping the plenary after all this travel madness.
May 15 – After sleep crash, up at 7 but feel surprisingly normal. Still no luggage or clothes here, so presenting's going to be interesting. #siop14
May 15 – @TRPoeppelman so what is a #siop prize? Journal subscriptions? #killingtimeontheSIOPshuttle
May 15 – @ericknud As I learned this morning, it was actually in the airport with me yesterday… But no one there knew that!
May 15 – @SIOPtweets thanks but a late night run to the hotel store for detergent and some bathroom sink laundry has me set! #commited2siop
May 15 – Tammy Allen has a tough intro act to follow! #siop14
May 15 – Some reminders that all press is good press from Tammy Allen #siop14 #governmenttherapist
May 15 – Nice to see some #bigdata approaches to quantifying our discipline #siop14
May 15 – I really appreciate the branding efforts for #siop14, but this video is painful
May 15 – Talking about mobile assessment in Room 310! #siop14
May 15 – Learning about new MTurk research and ready to see one of my students present at #siop14 !
May 15 – Feels like a lot of MTurk criticisms are common to all online research #siop14
May 15 – My day of back-to-back #siop14 presenting finally over… Time for back-to-back social events!
May 16 – So if #siop14 starts at 7AM due to the time change, why are evening events going to midnight?? #exhausted
May 16 – As predicted, midnight #siop14 events != 7:30am sessions – managing 9 though!
May 16 – #SIOP14 come by my symposium w/ @rnlanders Social Media in Selection: Validity, Applicant Reactions, + Legality today 11 am Room 314
May 16 – Ready for some master collaborating #siop14
May 16 – Automated tech-driven assessment is further blurring line between assessment centers and SJTs #siop14
May 16 – About to be wowed by @workpsy at #siop14
May 16 – Multimedia SJTs looking quite fancy these days… Better validity, lower adverse impact, but still tech challenges. #siop14
May 16 – @workpsy faces challenges turning IO psychologists into scriptwriters for video SJTs – sounds tricky! #siop14
May 16 – Nancy Tippins arguing human judgment shouldn't be removed from assessment of leadership. That may be true…but only for now #siop14
May 16 – Pretty nice crowd for social media in selection! #siop14 pic.twitter.com/CssF4Vnr5O
Pretty nice crowd for social media in selection! #siop14 pic.twitter.com/CssF4Vnr5O

— Richard N. Landers (@rnlanders) May 16, 2014
May 16 – Still reeling from an interesting but at times frustrating #gamification roundtable at #siop14
May 16 – @iopsychology @IOpsychgossip Mmm, need more data. Please submit your password immediately.
May 16 – @Bizarre_HR @iopsychology Glad to have you!
May 17 – I always feel on #siop14 day 3 like we've only just begun and also like I'm going to collapse in a psychology haze.
May 17 – I wonder if @djgeoffe was warned about #siop14 being a tough crowd?
May 17 – Interesting to hear the marketing perspective on what the new logo is intended to convey, emphasis on O instead of I (uhoh) #siop14
May 17 – I for one welcome our new Cortina overlord #siop14
May 17 – Cortina proposes a reviewer bootcamp to improve reviewer quality… Bold plan, and many will hate it #siop14
SIOP 2014 Coverage: Schedule Planning | Live-Blog | Reflections
As in 2010, 2011, 2012, and 2013, I'll be live-blogging the SIOP conference, which begins Thursday, May 15 and runs through Saturday, May 17.  This post contains a list of all the sessions that I interested in attending, which this year are generally focused on gamification, mobile, technology-enhanced assessment, and social media.  Barring any unexpected battery problems, my live blogging will be on Twitter, with a permanent record stored here.  This year's conference is in beautiful Hawaii (although in not-so-great Honolulu), which means that my live-blogging will be at sort of weird times in comparison to past years, at least if you are in the United States.  Most conference events are 7:30AM to 3:30PM Hawaii time, which means 1:30PM to 9:30PM Eastern time.
In the graphic below, the events that I am part of are colored red.  As usual, my schedule is packed tight, so I won't be attending everything, but this is everything I'm interested in.  If you'd like to meet up at any of these events, or if you think I missed something that I should definitely attend, please let me know!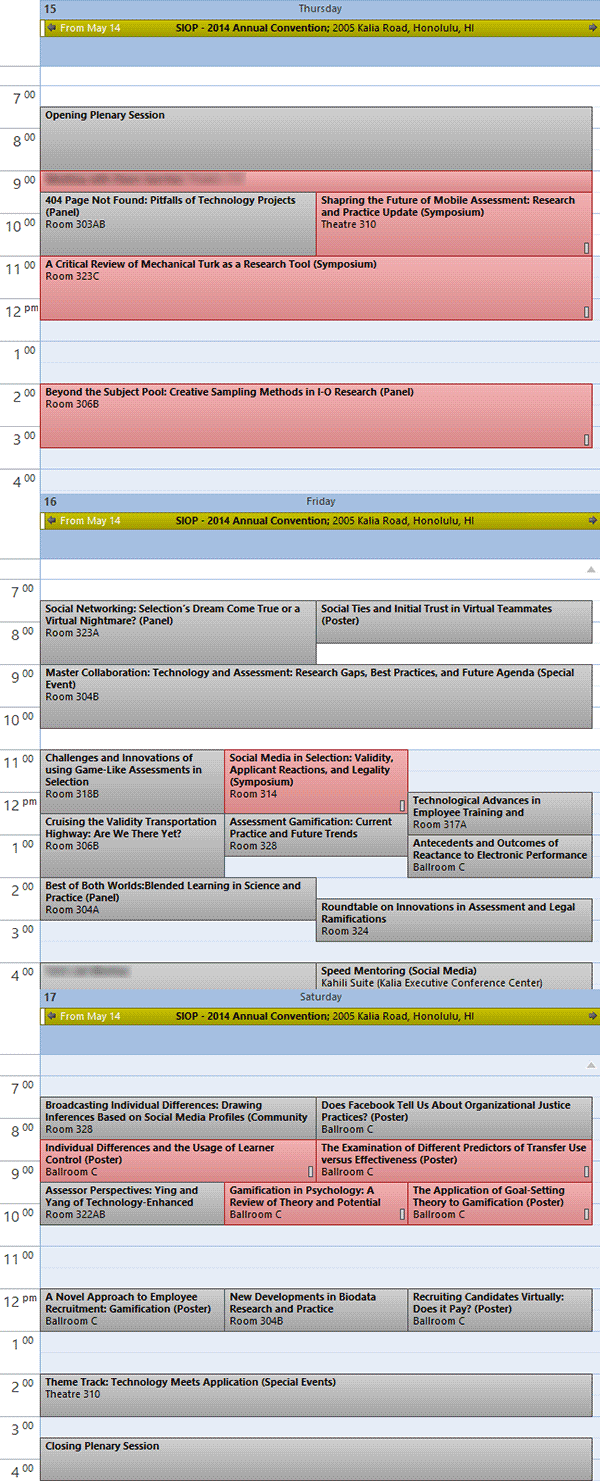 In an upcoming issue of Human Resource Management, Baum and Kabst[1] examine the effectiveness of recruitment websites alongside more traditional paper recruitment materials. They conclude that the most effective recruitment is done with a combination of the two.
To determine this, the researchers sampled 284 German university students, primarily business administration majors, brought into a computer lab.  All students were exposed to a recruiting message delivered by a large, multinational organization.  They were divided into five groups:
Group 1 viewed the printed advertisement, then the website.
Group 2 viewed the website, then the printed advertisement.
Group 3 viewed only the website.
Group 4 viewed only the printed advertisement.
Group 5 viewed neither.
After viewing the recruitment message, the participants completed a variety of surveys.  The researchers found:
Printed advertisements alone did not cause increased knowledge, familiarity, reputation, job information, or attraction.
Website advertisements alone did cause increased familiarity, reputation, and job information.
High information recruitment practices (website) have a stronger influence on knowledge and attraction than low information practices (print).
The use of both print and website together have a stronger effect on knowledge than the main effect of either would predict.
The use of both print and website together did not have a stronger effect on attraction than the main effect of either would predict.
Although this is an interesting approach, I am not convinced of the authors' conclusions for three reasons.
First, they used an actual recruitment website and an actual advertisement.  Thus, these two media contained different information.  The print advertisement only contained testimonials, information about applying, and some general information about the company.  The online website contained more in-depth and interactive elements.  There is no way to disentangle these effects – the website may have been more effective simply because it contains higher quality information than the print advertisement does. The effect may have been because the website was more "media rich", or it may have been because the website simply contained more information. We cannot know from this study alone.
Second, the firm was a big, familiar firm to most of the students – this may have introduced an upward bias and/or range restriction among the students – and thus the information contained within the print advertisement may have already been information familiar to most of the participants.  Print may be just as effective – or could be more effective – but only if it is equally informative. This is a major confound.
Third, the experiment was conducted on undergraduates sitting in a lab viewing recruitment materials.  I'm not as concerned about the use of students for viewing the materials – but there's a big difference between the motivation of someone sitting in a lab asked to look at recruitment materials for a job in comparison to 1) people flipping casually through a magazine (as if anyone does that anymore) and coming across a job ad or 2) specifically hunting down information on a recruitment website. These are dramatically different situations.
In general, the authors overstate the implications of their study.  For example, they concluded, "websites have a significantly stronger impact on employer knowledge than printed advertisements."  Well, maybe.  More technically, this particular website designed by a particular well-known organization had a stronger impact than a print advertisement designed by that same organization.  There are an awful lot of confounds in this conclusion – with a different website, a different print advertisement, a different industry, a different organizational reputation – these effects may not have appeared. There is absolutely no reason to think that either this print advertisements or this website are representative of print advertisements and websites in general.  Interpretation of other observed effects is similarly limited.
When there is a whole universe (statistically speaking) of websites and of print advertisements, finding an effect of one particular website does not demonstrate much.
Footnotes:
Baum, M., & Kabst, R. (2014). The effectiveness of recruitment advertisements and recruitment websites: Indirect and interactive effects on applicant attraction

Human Resource Management

DOI: 10.1002/hrm.21571 [↩]