Grade Predictor Add-in for Blackboard Learn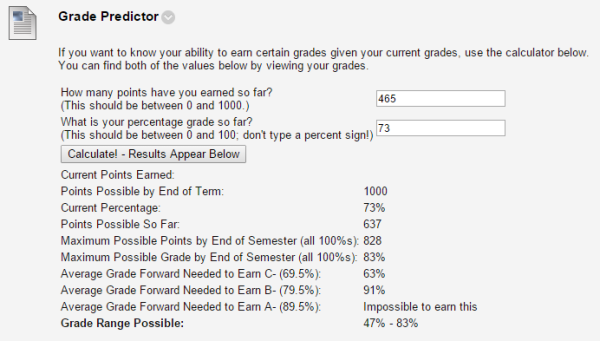 If you teach college classes like I do, around this time of year you begin to get an astonishing number of emails of the "Can I pass?" and "What do I need to get some arbitrary grade I've decided is a worthwhile goal?" variety. Although I'm happy to help these students feel better about their potential to succeed over the rest of the semester (or help them understand that they have waited way too long to start worrying about it now), it takes several minutes per student to run the calculations.
This semester, I realized that simply writing the code so that students could run these calculations themselves in Blackboard would take only about as much time as answering four or five such emails. So that's what I did.
For this tool to be valuable, you will need a grading system based upon points.  If you have designed your course so that everything is graded on a 100% scale and weighted by importance, this code (as written) won't help.
In addition to Blackboard, you should be able to use this code in any LMS that supports Javascript written by the instructor.  It definitely works on its own webpage, and it probably works in Canvas and others, but I don't have access to anything other than Blackboard, so I have no way to test it. If you do get it working in another LMS, let me know!
Update: Code confirmed to work in both D2L and Moodle!
To use this code yourself:
Create a new Item in Blackboard wherever you want the Predictor to appear.  Name it something meaningful (like "Grade Predictor").

Click on the HTML button in the item editor to pull up the raw code behind the item post. If you don't see the HTML button, you might need to click the chevron button at the top right to display the advanced item editing tools (both circled in red below).

A window will pop up.  Copy/paste the code found by clicking this link into that window.
Before you close that window, update the point total associated with "maxpoints" with the total number of points available in your course.  In the example below, there are 1000 total points in the course.  Change this number to whatever you want, but importantly, DO NOT CHANGE ANYTHING ELSE.  Be very careful not to remove the semicolon; bad things will happen if you do.

Click Update and then Submit to save your new Item.  If all went well, you will see the predictor as a new entry in Blackboard.  Try it out!
To ensure that students have enough information about their grades to use the tool, I recommend you have a Current Point Total column and a Current Percentage Grade column in Blackboard. This is easiest to manage if you use two Calculated Columns to maintain current grade estimates. Alternatively, you could force students to calculate their point totals and percentages on their own, but that's just mean!