Summer 2013 Updates and Posting Schedule
Ah, the end of the academic year. A time for reflection and furious attempts to get some research done. We are in the midst of Spring semester finals here at ODU, and getting ready to head into the summer. Like last year, I'll be using a relaxed posting schedule for the semester – so no more weekly mid-week posts until August/September-ish.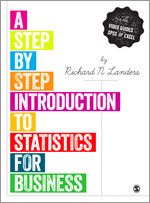 And actually, unlike last year, I won't be writing my textbook anymore because it's been published! If you would like a student-centered, practical, one-semester introduction to statistics for business, I'd (obviously) strongly recommend my Step-by-Step Introduction to Statistics for Business.  Each chapter starts with a case study describing a small business owner facing a problem that can be solved with statistics.  Lots of diagrams and illustrations too!  If my post on intra-class correlations is any indicator, apparently I've got a knack for describing statistics pretty clearly.
So instead of the textbook, I'll instead be working on journal article submissions, a couple of software design projects, and taking a special trip to Europe for my 5-year wedding anniversary.  A busy summer!