SIOP 2013 Coverage: Schedule Planning | Day 1 | Day 2 | Day 3
As in 2010 and 2011 and 2012, I'll be live-blogging the SIOP conference, which begins Thursday, April 11 and runs through Saturday, April 13.  This post contains a list of all the sessions that I interested in attending, which are generally focused on technology, training, and assessment.  Barring any unexpected battery problems, my live blogging will be on Twitter, with a permanent record stored here.
In the graphic below, the symposium that I presenting in is colored red.  As you can see, it's a bit packed, so I won't be attending all of these, but this is everything I'm interested in.  If you'd like to meet up at any of these events, or if you think I missed something that I should definitely attend, please let me know!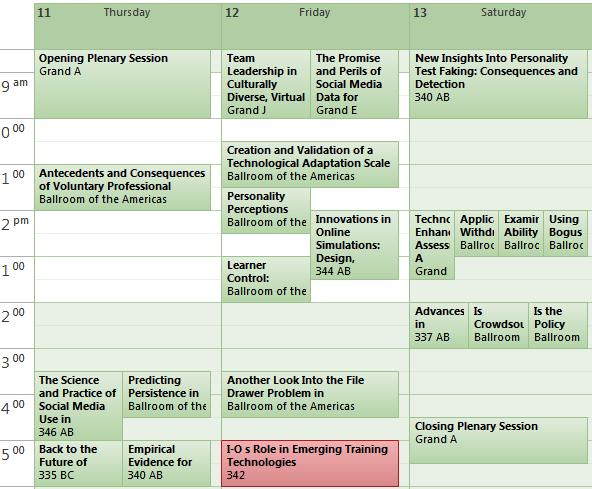 ---
| No. | Day | Start | End | Session Title | Room | Session Type |
| --- | --- | --- | --- | --- | --- | --- |
| 1 | 4/11 | 8:30 | 10:00 | Opening Plenary Session | Grand A | Special Events |
| 16-16 | 4/11 | 11:00 | 12:00 | Antecedents and Consequences of Voluntary Professional Developmentong STEM Majors | Ballroom | Poster |
| 75 | 4/11 | 3:30 | 5:00 | The Science and Practice of Social Media Use in Organizations | 346 AB | Master Tutorial |
| 76-9 | 4/11 | 3:30 | 4:30 | Predicting Persistence in Science, Technology, Engineering, and Math Fields | Ballroom | Poster |
| 89 | 4/11 | 5:00 | 6:00 | Back to the Future of Technology-Enhanced I-O Practice | 335 BC | Panel Discussion |
| 91 | 4/11 | 5:00 | 6:00 | Empirical Evidence for Successfully Using Social Media in Organizations | 340 AB | Symposium |
| 110 | 4/12 | 8:30 | 10:00 | The Promise and Perils of Social Media Data for Selection | Grand E | Symposium |
| 114 | 4/12 | 8:30 | 10:00 | Team Leadership in Culturally Diverse, Virtual Environments | Grand J | Symposium |
| 127-18 | 4/12 | 10:30 | 11:30 | Creation and Validation of a Technological Adaptation Scale | Ballroom | Poster |
| 138-32 | 4/12 | 11:30 | 12:30 | Personality Perceptions Based on Social Networking Sites | Ballroom | Poster |
| 148 | 4/12 | 12:00 | 1:30 | Innovations in Online Simulations: Design, Assessment, and Scoring Issues | 344 AB | Symposium |
| 159-22 | 4/12 | 1:00 | 2:00 | Learner Control: Individual Differences, Control Perceptions, and Control Usage | Ballroom | Poster |
| 188-22 | 4/12 | 3:30 | 4:30 | Another Look Into the File Drawer Problem in Meta-Analysis | Ballroom | Poster |
| 206 | 4/12 | 5:00 | 6:00 | I-O's Role in Emerging Training Technologies | 342 | Symposium |
| 225 | 4/13 | 8:30 | 10:00 | New Insights Into Personality Test Faking: Consequences and Detection | 340 AB | Symposium |
| 274-27 | 4/13 | 12:00 | 1:00 | Using Bogus Items to Detect Faking in Service Jobs | Ballroom | Poster |
| 274-1 | 4/13 | 12:00 | 1:00 | Examining Ability to Fake and Test-Taker Goals in Personality Assessments | Ballroom | Poster |
| 274-13 | 4/13 | 12:00 | 1:00 | Applicant Withdrawal for Online Testing: Investigating Personality Differences | Ballroom | Poster |
| 280 | 4/13 | 12:00 | 1:30 | Technology Enhanced Assessments, A Measurement Odyssey | Grand F | Symposium |
| 305 | 4/13 | 2:00 | 3:00 | Advances in Technology-Based Innovative Item Types: Practical Considerations for Implementation | 337 AB | Symposium |
| 306-12 | 4/13 | 2:00 | 3:00 | Is Crowdsourcing Worthwhile? Measurement Equivalence Across Data Collection Techniques | Ballroom | Poster |
| 306-21 | 4/13 | 2:00 | 3:00 | Is the Policy Capturing Technique Resistant to Response Distortion? | Ballroom | Poster |
| 316 | 4/13 | 4:30 | 5:30 | Closing Plenary Session | Grand A | Special Events |